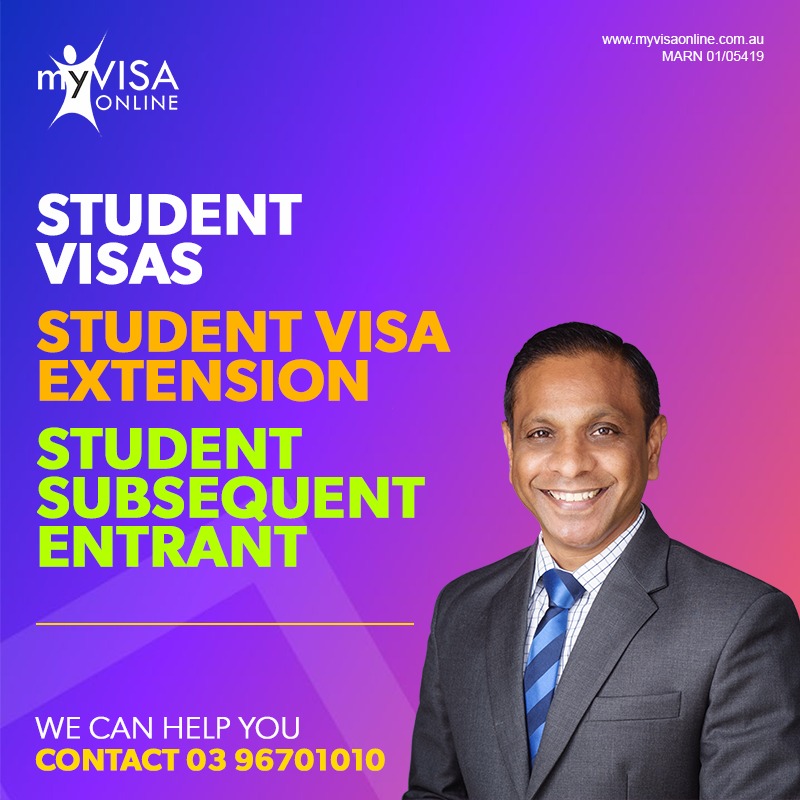 Are you applying for a first student visa? Or for a student visa extension from onshore ?
We offer services on student visas for getting admission in CRICOS providers, change your courses onshore to PR related Courses or change your educational provider onshore or apply for a student visa extension or apply for level providers 1 visa processing with eligible courses
You can include your family members or work part-time while you study
Student Visas allow international students to travel to and from Australia and live in Australia while they undertake a full-time course of study. There are many different courses an international student can enroll in, and it is possible to apply for permission to work part-time while studying
When applying for a student visa, you can include your partner if you wish or apply for separate spouse visas, or dependent visas or subsequent entry visas. Parents or relatives of a student who is less than 16 years old can apply for a guardian visa to stay in Australia with the student.
Students can lodge student visa applications onshore or offshore via online, our education consultants can assist you with a free consultation.
We also have an overseas office in India, where you can get assistance from our Indian educational agent or Indian student visa agent.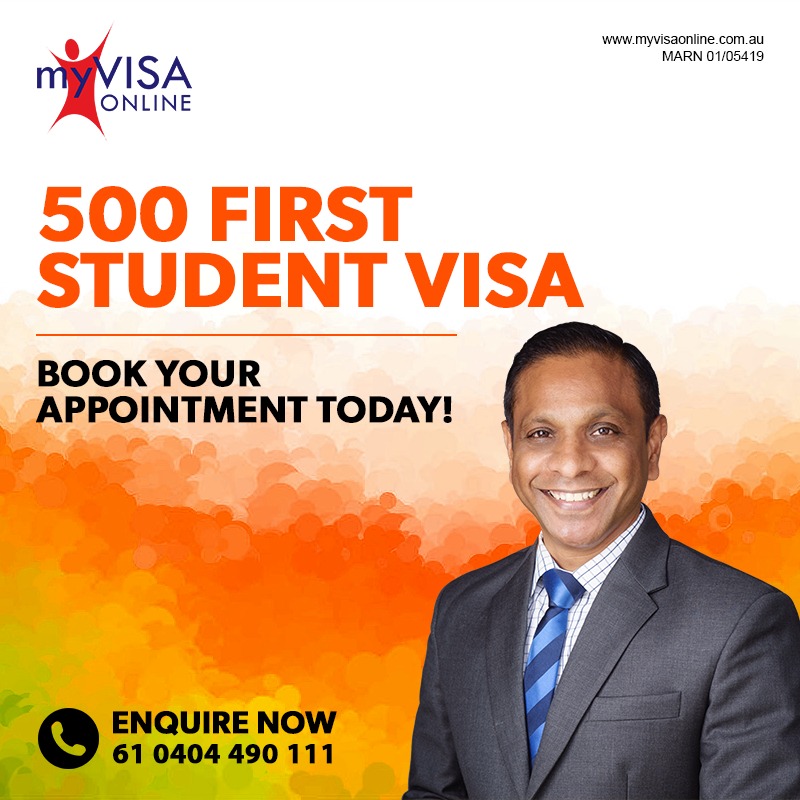 While on a student visa, you can change your course onshore to one leading to permanent residency (PR), or change your education provider. Our educational agent in Melbourne can assist with advice on various course providers, including those involved with level 1 providers and can help with student visa extensions. If you are eligible, our migration agent or senior migration consultant can help you apply for graduate work visas and with pursuing other options.
Eligible Providers Level 1 include
bachelor's,
master's, and
doctoral degrees.
Students applying for student visas are treated as lower risk by DHA (Department of Home Affairs).
On the other hand, risk assessments can vary depending on one's passport and country of origin. Risk assessment levels range from 1 to 4. For a diploma of hospitality, an Indian student's assessment level would be 2. Our consultants can help such a student with their financial statements, and with meeting genuine entry and IELTS requirements.
Visa Requirements
First, enroll in a CRICOS-registered course,
GTE (Genuine Temporary Entrant)
You must be a genuine student to complete studies in Australia and comply with visa conditions and return home after your studies.
The genuine temporary entrant (GTE) requirement is an integrity measure to ensure that the student visa programme is used as intended and not as a way for international students to maintain ongoing residency in Australia.
You must satisfy DHA that you have a genuine intention to stay in Australia temporarily.
When assessing the GTE requirement, DHA would consider the requirements set out in direction number 69, and take the following in account:
your circumstances
your immigration history
if you are under 18 years old, the intention of your parent, legal guardian or partner
any other relevant matter.
This would generally involve demonstrating how the studies are relevant to your background, and how they will improve your employment prospects in your home country.
English Language
If it is Evidentiary Requirements, you will need to provide evidence of your English language ability.
This would generally require you to undertake English language testing – minimum scores
IELTS: 5.5 Average
TOEFL (Paper): 527
TOEFL iBT: 46
CAE (Cambridge): 162
PTE (Pearson): 42
OET (Occupational English Test): B Pass
If you are completing ELICOS (English language) studies as part of a packaged course, the English scores are somewhat lower.
You may be exempt from English language testing if:
You hold a passport from certain countries
You have previously studied in English medium or in Australia
You are enrolled in certain types of courses
Financial Requirement
If required, you would need to provide evidence that you have sufficient funds to undertake studies in Australia. This could be either of the following:
Evidence of funds to cover your studies for the first 12 months of your stay in Australia for your tution fee, living cost, return ticket and OSHC for entire course; or Evidence of taxable income of your parents or spouse for the last 12 months
We are MARA Registered Migration and Education, Visa Agents, can assist you for the admission related to your desired outcome and also apply for the student visa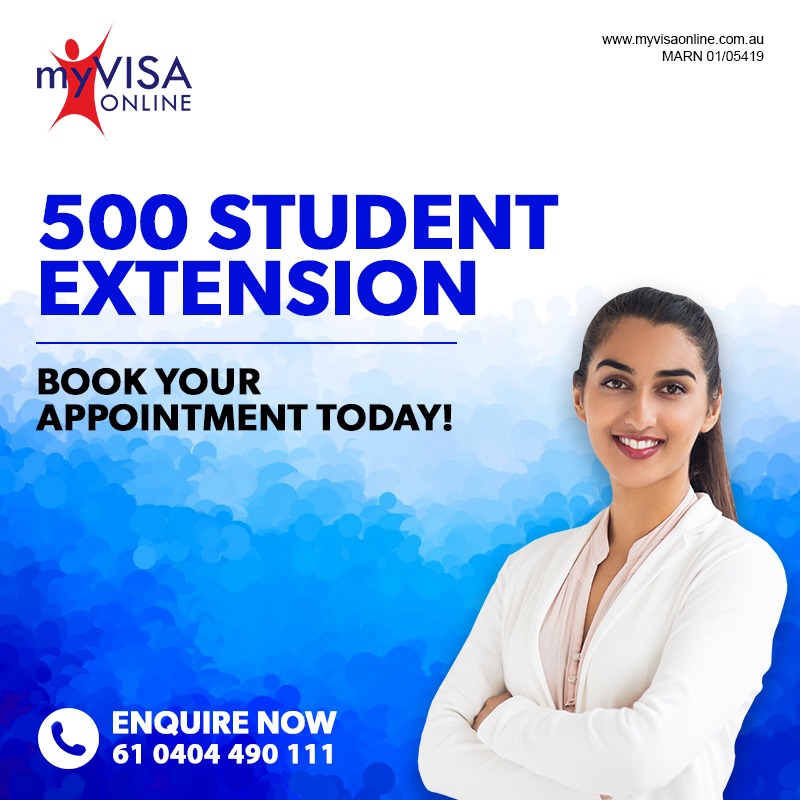 For Onhore Student Visa extension it is important to now when to renew the visa. For that
You must hold a valid student visa while studying in Australia.
You will need to renew your visa if:

you cannot complete your course before the visa expiry date, or
you have submitted your postgraduate research thesis, or
you are going to commence a new course of study

Apply to renew your student visa at least 6 to 8 weeks before it expires.
We can help you to
Obtain a new Confirmation of Enrolment (CoE) .
Extend your Overseas Student Health Cover (OSHC) policy until the expiry date of your new student visa.
Prepare your supporting documentation. Use the Document Checklist Tool to check what documentation you need to attach to your application. This may include:
Confirmation of Enrolment (CoE)
OSHC policy
Passport
Statement to satisfy the Genuine Temporary Entrant requirement
Evidence of financial capacity
For more Information please contact us and we are MARA Registered Migration and Education, Visa Agents, can assist you with the course and COE related to your desired outcome of your couse and also apply for the student visa  extension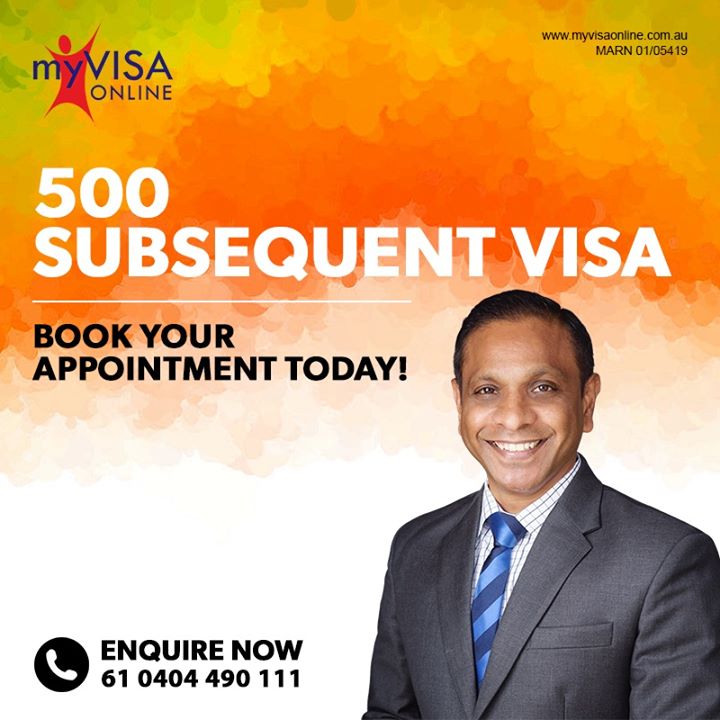 The 500 subsequent student visa is for the member of the family unit of eligible international students who want to join the student in Australia
Subsequent applicants can apply from onshore or offshore
You may want to join the international student for family re-union or
Children of the international student can accompany you to Australia.
If international student is enrolled in any course from Cert. III to Bachelor level, you can generally work a specified number of hours during school semesters or unlimited hours during holidays.   .
If international student is enrolled in any course from Bachelour to Phd level, you can  work full time
You can generally stay in Australia till the duration of the visa of the international student.
IBefore you apply for this visa, international student must have been accepted to study full-time course at an educational institution in Australia and must have a valid electronic confirmation of enrolment (eCoE).
For more Information please contact us and we are MARA Registered Migration and Education, Visa Agents, can assist you with your subsequent entrant visa
How It Works
Simple five steps to lodge for your student visa at the Adelaide processing centre
Initial Consultation
Phone OR In person for eligibility
Tailored Advice
We give you advice tailored to your needs
Lodge Visa Application
Preparation for Filing and Lodgement